It's really nice today, and I should be outside, and I will, soon. A couple quick announcements: apparently it is
National Library Week
, you know the week that's about to end right now. I guess I've been derelict in my duties but...it's cool. Also I wrapped up my library school application, so that is all sent in, and now it's just a matter of waiting for the transcripts and recommendations to get there and then I find out if I'm a future librarian! Should be a little over a month, I'd imagine.
Well, I went to a Barnes & Noble (I know, I'm sorry, I had a gift certificate) and spotted a few things that I wasn't sure I wanted to buy but looked like interesting reading. I looked 'em all up and settled on
I, Stagolee
, the story of a legendary pimp from African-American folklore, now in handy novel form. They had it at many branches, including the...
Flatbush Branch
.
Branch: Flatbush
Location: 22 Linden Blvd. at Flatbush Ave.
Transport: bicycle
Book:
I, Stagolee
by Cecil Brown
Date: Thursday, April 19, 2007
This branch is over by the southeast entrance to Prospect Park, and though it wasn't as nice as it is today, it was pretty good, so I biked it. Up the hill, through the park, then down Church St. cause I was craving Subway for some reason, then back to Linden Boulevard. So, a pretty good ride. The branch was nice but seemed to have an odd lack of tables considering that it wasn't even very small. Plus I got there right around the time when all the kids were getting there, and they weren't being that loud, but one of the librarians kept yelling at 'em. Guess he didn't want to give them an inch! Another guy at the table I was sitting at decided to pack it in as a result. He even told himself it was time to leave. Didn't seem that crazy though. It was also odd that when I got there, a policeman was checking people out. I guess they all work for the city...
The Flatbush Branch seemed to fit in with the trend that if a library is in a not great area, it'll have worse facilities than one in a nicer area. It would be nice if Brooklyn spread it out better, but I suppose there's a chance they're just responding to demand, and it happens to be less in those places. Personally though, I doubt it. And here's a chance to actually help out, and I can't do it! Tomorrow is
Support the Shelves Day
where people can go to certain branches (Brownsville, Cypress Hills, Flatbush, Homecrest, New Utrecht, Saratoga, Sunset Park, Ulmer Park, Washington Irving and Williamsburgh) and donate books they don't need. Unfortunately, I'm going to be in New Jersey tomorrow having fun so I can't donate books. But if anyone reading this has books...and lives near one of these branches...you should do it! I know no one will, but if you do, I'll buy you something nice. Maybe even a beer!
I guess that's all for today, look at some pretty pictures.
wide shot...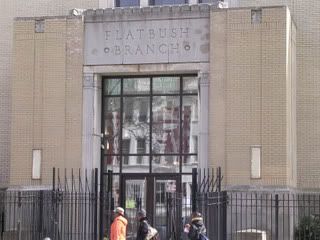 entrance...
row houses across the street...
kids, a basketball, and a hoop. They were playing, ok, just not when I took the picture. There's no court though so it was more
Horse
than anything, or so I assumed. That is all.