Yet another post done way after the actual visit. Worse still, this visit was the day after I went to a Yankee game (they lost) and broke my camera. So I have pictures taken from my cell phone, but they happen to be very tiny. I'm sure I'll get a new camera soon, cause this cell phone thing is pretty ridiculous. But on to the "good" stuff.
Persepolis 2
was just as great as the first, although it interested me a little bit less just because the first one had more political stuff (about Iran's repressive government, the Iran-Iraq war, etc.) and this one focused more on her being a fish out of water in Germany, going through her teenage years, and so on. It was a bit more about growing up, a failed marriage, and other interpersonal relationships, but I think I enjoyed the deeper familial bonds established in the first book. Still, they're both great, they work best as a unit anyway, and anyone who likes one will like the other.
I've gotten to the point where I've been to the majority of Brooklyn's public libraries (actually last post was my 45th, indicating I'm 3/4 done), and so I've more or less given up on looking for specific items at specific branches. At this point, it just seems to make the most sense to pick a branch I haven't been to and go over there. And since I just got a new bike but am not back in great shape yet, I thought I'd go to relatively close library...the
Clarendon Branch
.
Branch: Clarendon
Location: 2035 Nostrand Ave.
Transport: bike!
Item:
The End of America: Letter of Warning to a Young Patriot
by Naomi Wolf
Date: Thursday, April 3, 2008
This library is really nice. Just southeast of Prospect Park, near Flatbush Avenue, it's easy to get to (especially via bicycle) and the building is fairly new, built in 1990 according to the website (and it won some award). There was also a really nice outdoor courtyard area, and it was nice enough to sit out there, but I didn't because I had only had my bike a couple days at that point and was extra paranoid about it getting stolen. More likely the seat getting stolen, since that has happened to my other bike twice now. But I've calmed down about all that a little bit now. Really.
As for the selection, I'm sure my bike-related fears didn't give me the most peaceful browsing experience, but I couldn't really find anything. Part of it is I have a bunch of books backed up at home that I need to read thanks to my new job, and school has been extra busy this semester, so it's hard to pick out any serious selection that I'd really be able to devote some time to. I ended up picking what I did because it's fairly short, and hey, I could always use another book depressing me about the current state of the country. Woooooooo!! Anyway, that's it for today except for the "photos."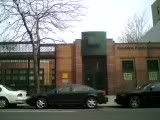 Street view.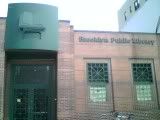 Right side.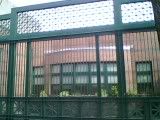 Courtyard.
I probably won't go to another library until I have a camera; as you can see, these pictures are fairly worthless. Hopefully that won't take too long but whenever I say that it does. So, I'll update when I update! Throwing caution to the wind here!