Just before the month ends, here I am with a new post. It was a somewhat chill but still pleasant day last Wednesday, and I had already renewed my items from my last trip once, and the computer wouldn't do it again, because my new library card wasn't updated in the system. I didn't want any more fines, had the day off etc. etc., so I figured it was about time for another trip. I looked up a book that the
Village Voice
recently mentioned favorably as a portrait of gritty New York, the way it used to be (
Lush Life
by Richard Price), picked a library that had it and that I hadn't been to, and before I knew it, I was off to the comic store. It was Wednesday, after all. But after that I went to the
Stone Avenue Branch
!
Branch: Stone Avenue
Location: 581 Mother Gaston Boulevard
Transport (from comic store): L to Sutter St.
Item:
Unfiltered: The Complete Ralph Bakshi (The Force Behind Fritz the Cat, Mighty Mouse, Cool World, and The Lord of the Rings)
by John M. Gibson and Chris McDonnell
Date: Wednesday, October 22, 2008
This will be a pretty short entry, because I already talked about the books I got last time in that entry, and because I have to pack for my trip to L.A. tomorrow. (woo!!) Stone Avenue started out life in 1914 as the Brownsville Children's Library, the first public library devoted to children in the whole world. It was all decorated with excellent wooden carvings, like rabbit's heads on the benches, and had a decidedly pleasant, childlike atmosphere. There's even a big fake fireplace in it, though perhaps it functioned at one time. There are countless children's programs every week, and it was on the whole one of the nicest branches I've been to. The librarian was very helpful when I couldn't find the book, though she was unable to find it either. I kept circling around looking for something more portable, but my eye kept coming back to the huge Ralph Bakshi book (he made many famous cartoons, a counter-culture icon, look him up!) which I eventually selected.
I always get a bit neurotic going into the supposedly "bad" parts of Brooklyn like Brownsville, but as usual my fears were unjustified. Although I did have to walk through many blocks of projects to get to the library, and the neighborhood seemed a bit depressing as a result, the library building really stands out as a pleasant one in an otherwise very static neighborhood. I got to see a bit more of the area on my way out, since I had to get the 3 train to head back to my part of Brooklyn, and the area underneath the elevated tracks was a bit nicer (but you can't trust me, I'm kind of a sucker for elevated train tracks).
I had to get my library card all fixed up, and then pay my fines, which involved a few minor gaffes...by gaffes I mean problems, I didn't inadvertently insult the librarian or anything. Maybe they weren't gaffes then. I blame the 24-hour news networks. In any event, it's all taken care of, I don't owe the library any money, I even got a Snapple and everything so you know I'm legit.
If anything else happened, I sure don't remember it. Pics:
1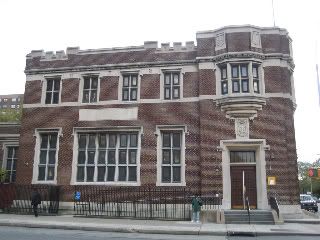 2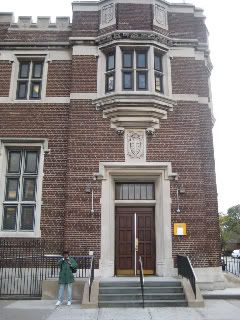 3!
Yeah, that's all. Told you it would be short. Now don't forget to get out there and vote! Sometime between now and Tuesday! Make it happen! Hooray democracy! See ya'll next month when we have a new president(-elect). Whew.