Wow, I guess the stock market just plummeted or something. Well, I'm sure everything will be fine. For everyone. Forever. Today's trip was sort of a minor one, as I haven't yet finished reading
Rip It Up and Start Again
, though I am completely addicted to it. I imagine I'll finish it soon, I just had kind of an off weekend in terms of reading. I wanted to get back out there, though, so I figured I could return the weird Klezmer CD and get a movie. I looked up
Grey Gardens
again, and finally, a copy had been returned, so I prepared to head over to the Washington Irving Branch.
I'm not sure why, but after getting all ready to leave the house, I did one more last minute check on the library catalog website, and where there should have been a "CHECK SHELVES" staring back at me, I instead found a "MISSING". I'm not sure what happened to change the status in those few minutes, but it turned out to be lucky, because the Washington Irving Branch is literally on the edge of Queens, and not near much (as far as I know). Although, as a side note, lately I seem to be enjoying the northern part of Brooklyn better, possibly because it's more run down feel fits my mood. It also feels more open, somehow, and definitely less crowded. Although if I don't like crowds, why do I live in this city to begin with? A hopeless muddle, to be sure.
So I looked up some comics or something, and headed down to the
Mapleton Branch
, which is a ways southeast from here on the N train.
Branch: Mapleton
Location: 1702 60th Street
Transport: R train to 36th St., N train to 18th Avenue
Book:
Powers Volume 1: Who Killed Retro Girl?
by Brian Michael Bendis
Date: Tuesday, February 27, 2007
I wasn't going to go just for this one comic, which I'm pretty sure is nothing overly special anyway (though I do like most of what I've read by this author) but the catalog also claimed they had a Harvey Pekar (of
American Splendor
fame) joint that I hadn't read, and they didn't. This library system seems to have a high instance of cataloging problems, but since it's the only system I've been intimately acquainted with, I have no idea whether it's higher or lower than normal. I'm also somewhat irritated that a
different book
that I would like to read, of which there is only one copy in the whole Brooklyn library system, has been listed as "DUE 02-20-07" for quite some time now.
Be that as it may, the library was pretty nice. Located across the street from ANOTHER Yeshiva, its patrons were probably about 50% Orthodox Jew. The neighborhood is nice enough, but a bit boring; nothing special in the houses, no business, a generally low traffic area. I wouldn't mind going back in the Spring or Summer, and it is close to a small park (Gravesend) as well. I think I'm just more interested in the outskirts of the borough for some reason.
The library itself is very spacious, although it does seem like much of the space isn't utilized. The entire second floor is children's books, but most of the shelves are half empty. The movie selection was pretty dismal, but there is a collection of Russian language books that must be fairly extensive. I mean, I'm just assuming. But hey, at least the building is built right on the corner in a weird polygonal shape. There's definitely something to be said for that.
From this angle the building looks terrifying and industrial!
But it's not really. Not from across the intersection anyway.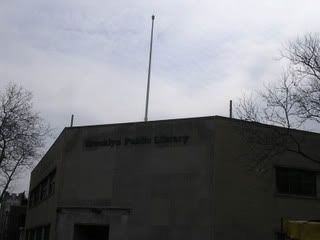 And here we have hope for the future. May all the flagpoles one day be empty!
Night.