Well, to no one's surprise, it apparently is hard to concentrate on things other than school at the end of a semester. It really has been a while, hasn't it? I didn't even get around to watching that movie yet, though I did read the book,
The City In Crimson Cloak
. It was good. The writer is definitely talented, though I feel like she has probably written something else better. It definitely gave an interesting perspective on going to a foreign country for the wrong reasons, and what it feels like to be an outsider. And how terrifying Rio de Janeiro could be. I guess the whole "the main character is writing a novel and half of this novel is the excerpts from that other, fictional novel" tactic sort of bothered me. Especially since the fake novel didn't have a significantly different tone from the real one. But either way, I did finish it, it was interesting, learned some stuff, etc.
Then recently I was looking around for things to tell people to buy me for the holidays (no one ever just randomly gets me something, probably for the best) and I stumbled on a book I wanted to read, and not only that, but a library I hadn't been to had it. So today, finally, I bundled up and subwayed it out to the
Homecrest Branch
.
Branch: Homecrest
Location: 2525 Coney Island Ave. at Ave. V
Transport: F train to Ave. U
Item:
Driven Out: The Forgotten War Against Chinese Americans
by Jean Pfaelzer
Date: Wednesday, December 19, 2007
So, I picked another book about a particular race getting kicked around by our country. Not my fault, though, really: I love history, and it just so happens to be full of quite a bit of that sort of thing. As for the library, it was nice. Fairly quiet, a diverse crowd, the usual rectangular shape (for non-Carnegie branches anyway). It's in an odd part of Brooklyn (the neighborhood is called Gravesend), sort of south/southeast, that reminds me much more of a commercial strip in a small city than something you'd expect to find in New York. Car dealerships, fast food chains, little shops...reminds me of Route 1 near where I grew up. Not in a nostalgic way or anything, the whole country looks like that more or less, so we can't really miss it yet. Not that anyone ever would.
But back to the library, it also had a good selection of books including a large wall of Chinese language books. It's interesting, there was a definitely a large Chinese population in the area, even though from what I knew of Chinatown in Brooklyn it's near Sunset Park, more north and west. On my way out there was an older couple with European accents fighting with the woman at the checkout area; from what I could gather, they had done something (paid a fine?) online yesterday, but since the system had apparently been down all yesterday and part of today it hadn't been logged yet. Just to briefly editorialize, I hate it when people get self-righteous about "well, the computer system is down, nothing we can do." In the short-term that's true, but also, get a better computer system. At the very least register a complaint with someone higher up; we shouldn't just have to live with this constant lack of function from something that's supposed to make our lives easier. Wow, I sound like I'm seventy. Moving on to...the pictures!
From this angle it reminds me of my junior high school.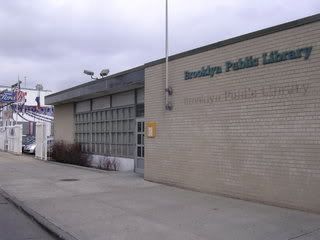 Ford dealership! One of the banners said something to the effect of "It's the popular choice!" Amazing.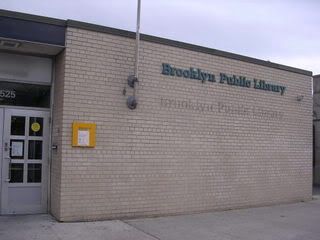 And, a little bit...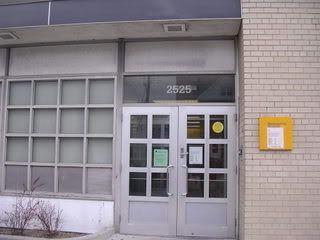 closer up.
That's all for now and probably for this year but it definitely won't be more than a month this time so...if you're still checking this now...no reason to stop, really.