I'm back, and I've got something extra special for everyone today. This post will be about not one but TWO libraries. One of them isn't even in Brooklyn! Hard to believe I know. I won't talk about that one for long because this blog is really about Brooklyn Public Libraries, but I just thought I'd mention it and show off the pics. I needed a book for one of my classes, and since it's not really something I'd have any use for after the class is over, and New York Public has seven copies of it, I thought I'd branch out onto the island and see how they do things over that way.
I went to the
Tompkins Square Branch
, out on East 10th St. by Avenue B. It's a nice library, decent sized with two floors (though I didn't go up to the second) and plenty of space. And books! I also needed to use the yellow pages, which they had, as I was calling every stationery store in the greater New York area to see if they had pads (preferably lined) of carbon paper (they don't. None of 'em). Why do I need these pads, you may wonder? Because I'm so obsessive about lending out my books and other prized possessions that I figured this way I can keep records of who has what, and give them a receipt as well. I know, I could use computers, but I'm old fashioned. Incidentally, I also believe we should worship the sun and moon as gods, and fear them. Anyone catch the lunar eclipse last night? It was total!
Pictures of this foreign library: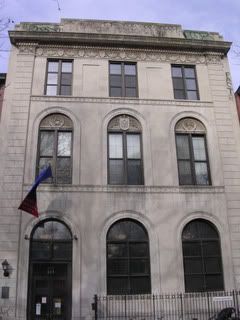 Looming!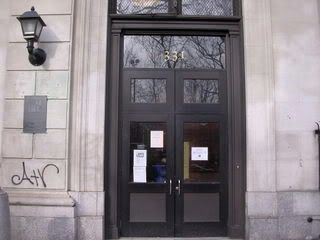 Inviting...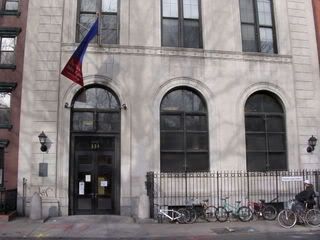 Riding.
Nearby, this classic car. Just cruisin'.
So, that was that. But the main event, as usual, is a true Brooklyn branch. After reading somewhere about an exhaustively researched ongoing graphic novel series about the Trojan War, and finding out that the first volume (
Age of Bronze Volume 1: A Thousand Ships
) was indeed at a branch I hadn't been to (
Cypress Hills Branch
), I set off in that general direction.
Oh yeah, and I also finished that book I got out last time,
The Road
. It is very good, and worth reading. Probably about as depressing as I thought it would be. A good read though, and a quick one. It almost felt like a novella in some ways. The tone of the book reminded me quite a bit of the seemingly interminable part of
The Return of the King
where Frodo and Sam are struggling to get the Ring to Mount Doom and trying not to starve to death in one of the worst places in the world. Only with less hope. And yet somehow, I really enjoyed it (
The Road
I mean). Go figure.
Branch: Cypress Hills
Location: 1197 Sutter Ave. at Crystal St.
Transport: F train to Jay St., A train to Euclid Ave.
Item:
All the Pretty Horses
by Cormac McCarthy;
Persepolis
by Marjane Satrapi
Date: Thursday, February 21, 2008
Well, I didn't get that Trojan War thing. Infuriatingly, they had they second volume but not the first, even though they supposedly had both. Blarg. But, since I enjoyed
The Road
, and have been watching
No Country For Old Men
over and over lately, I decided some more western-oriented Cormac McCarthy would suit me fine. Plus it's the first volume of a trilogy, and you know how I love trilogies. As for Persepolis, it's an extremely popular and highly acclaimed comic that's been made into a great movie (which I saw), and I haven't read it yet. How is this even possible!? Well, it'll be remedied soon enough.
I liked the library. As much as I appreciate the Carnegie branches, I find that I usually enjoy the modern ones more. This building opened in 1995, and the design on the outside is very inviting, and the inside had a perfect library atmosphere. Lots of space, tables, people sitting around reading (I think even more than were using computers!) and a helpful reference librarian who did his best to find that damn
Age of Bronze
book for me. I was a little worried about the neighborhood (East New York is apparently where about 25% of the crime in New York City is committed, and I went around sunset), and while there was a large housing project across the street from the library, my impression was that the area definitely felt safer than Bed-Stuy. Of course, I didn't have to wander far from the subway, so I don't know if that would've made a difference. Oh, and I'm just noticing that half the picture are blurry. Sorry about that. Visuals: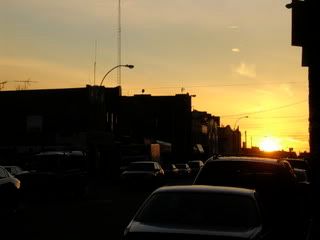 Sunset over Pitkin Ave.
Pine trees and projects.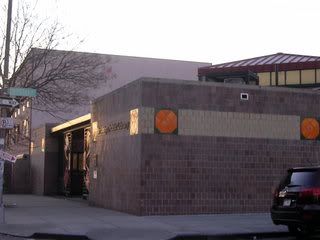 On approach.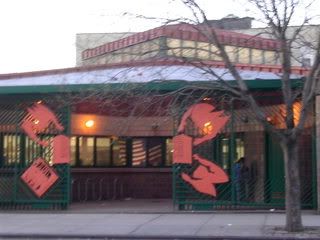 Left side
Right side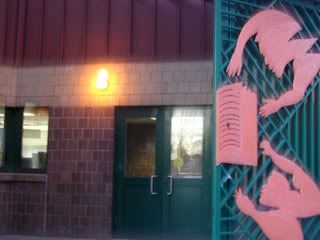 Closer view of sculpture by Rolando Briseno.
Ok, I'm outta here. Keep hope alive!