Forget that thing I said about the Yankees last time. Also, I've been remiss in my duties as a library blogger. I went to a library on Wednesday, and you're just now hearing about it! Totally unacceptable, right? I can make up for it honest. Here I go!
The Eddie Campbell comic (
Black Diamond Detective Agency
) was quite good. I love his art, and the story was appropriately twisty-turny as far as what you'd expect from the title. It got a little confusing at times but definitely worth reading. I mean, if you like comics, and your library also has comics.
Now a friend of mine just moved here from Minnesota, and she works at a Barnes and Noble, so I went there to see her in action. There's a book of essays I was interested in by an author named Steve Almond (who writes some excellent short stories) and I bugged her co-workers to help me find it there, but they couldn't, so I skulked around until I found it myself. Then I put it back and decided to get it from the library, and they had it, at the
Rugby Branch
.
Branch: Rugby
Location: 1000 Utica Ave. (Near Tilden Ave.)
Transport: bicycle
Book:
(Not that You Asked): Rants, Exploits, and Obsessions
by Steve Almond
Date: Wednesday, September 26, 2007
The Rugby Branch is in Rugby, which is just north of East Flatbush. Or south? It's confusing. That general area, anyway. The neighborhood was kinda weird; even though it isn't that close to the water, it kinda seemed like if I kept going down Utica Avenue, I would fall off the earth. Also the library looks very uninviting from the outside, because all the windows are covered in cages. My first impression turned into pleasant surprise, though, when I went inside. There was nothing special about the design, but everyone there seemed happy, it was quiet and pleasant, and the books were laid out well. And it was nice and cool, which was especially nice since it was so hot and humid on Wednesday, and I was extremely sweaty by the time I got to the library.
The book? Yeah, I read it. It's great. I may want to read it again sometime so I might actually have to buy it. Almond discusses his hilarious sexual exploits, his life being under attack by crazy right-wingers, and maybe best of all, how much he hates the Red Sox (he's an Athletics fan). Oh and having a baby, that one was good too. And Kurt Vonnegut. So lotsa stuff really. It's great, read it!
Now babble and poorly constructed sentences must give way to...pictures!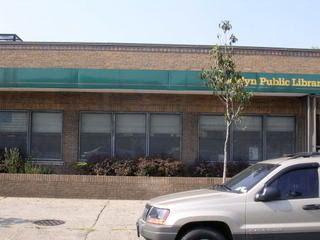 The windows.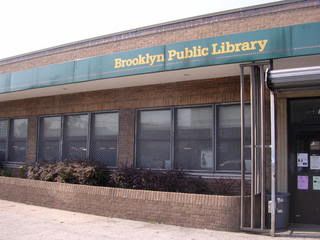 Windows AND door.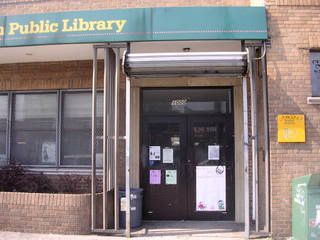 Just the door? You got it.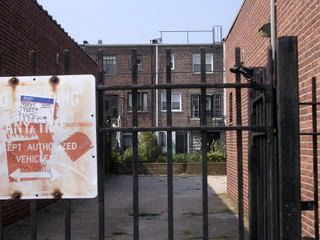 Here is where I parked my bike.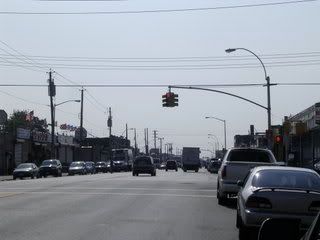 Doesn't it just look like if you kept going you'd fall off the world? No? I guess it's just me then.
Seeya soon!