Ir's been almost a month, eh? I'd like to say a lot's happened, and maybe a lot has, but it's all starting to blur together. I don't know whether it's seasonal change or the fact that lately every other person seems to hate me or if it's that there's finally a bunch of work to do in my classes. Anyway I am looking forward to some much needed family time, as is the custom at this time of year. Until then, I have been mostly busy with
Super Mario Galaxy
(it's amazing buy it buy a Wii if you don't have one and then buy it or just come over if you want) and the totally great
new Scott Pilgrim book
(1 to 3 months? Whaa? Don't get it on amazon, just go to a comic store).
But hey, those things aren't about libraries. So back to the books at hand! That short story book happened, right? Yeah, that was pretty good. A few in particular. I'll try to work books by their authors into later posts.
Soledad Brother
was completely riveting. I expected it to be interesting, but it was so compelling I could just sit and read it for hours. Afterwards I would feel like I had been spending time in prison. Not because the book was tedious, but because it was very evocative. It furthered my belief that locking up a human being for years (or any time period, really) is one of the worst things that we can do to one another, and I wish it I believed that it would ever end. But that's the nature of our civilization I suppose. Ok, rant over.
I was hanging out with my friend Sandy of Wednesday and I decided to take her for a little trip (and break out of my Mario-induced haze) so I picked a close library and we went over there. It turned out to be the
New Utrecht Branch
.
Branch: New Utrecht
Location: 1743 86th St. at Bay 17th St.
Transport: M train to 18th Ave.
Items:
The City in Crimson Cloak
by Asli Erdogan;
Sherrybaby
(DVD)
Date: Wednesday, November 14, 2007
So, New Utrecht. It's a really nice
neighborhood
near Bensonhurst. It's misspelled on the library map. It was a very nice branch, quiet, well stocked, well laid out. I think Sandy liked it okay. I didn't have anything in mind to get, so I chose a couple of fairly random choices. The book grabbed my eye first, and then I kept it because the author is foreign (Turkish) and it seems pretty interesting. It actually takes place in Rio, I didn't realize that when I got it. As for the movie, Maggie Gyllenhaal is in it, and I think it's one of those movies where the performance is totally amazing but the movie itself is just all right. That's fine though, I usually like those sorts of movies.
Since I don't have much to say about the library building itself (other than that I liked it) or the neighborhood (other than that I liked it and there were a lot of Asian buffets) I'll post this snippet from the branch's page on BPL's site, because it is awesome and slightly creepy. "A literary club called the "Winter Society" founded the Free Library of the Town of New Utrecht in 1894. Its members applied to join the Brooklyn Public Library system in 1901, when New Utrecht Branch also moved to Linwood House on Bath Avenue and Bay 17th Street." Well, just the fact that it was called the Winter Society is creepy. Makes me think of weird rituals. Those people totally lived in Brooklyn and liked books before it was cool. Everyone since them is just posers, I'm tellin' ya.
Right. When the nonsense kicks in it's time for the pictures.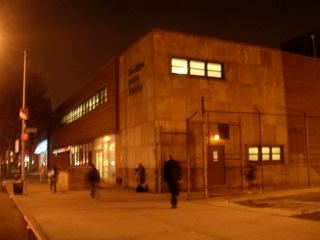 Blurry (far)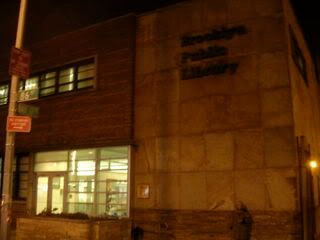 Blurry (closer)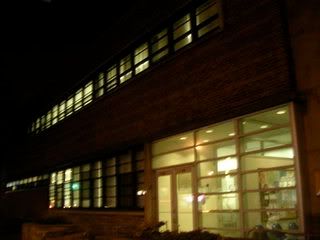 Blurry (weird angle)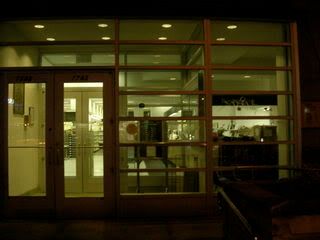 nighttime.
I'd like to promise I'll update pretty soon, but I respect you guys too much to lie to you. Seeya!