Well, here it is, another post, and summer isn't even over yet. Though today it kinda feels like it's over, which is awesome as far as I'm concerned. I can never wait for fall to start though, and once it's here and I'm not working full time, I'll be able to go to libraries more. Which is great for everyone!
Ok, I'll level with you all: it's been a month, and I didn't even finish the book I got out last time. I got about 100 pages in, and I really enjoyed it, but it just wasn't the kind of thing I could read piecemeal, and I've been so busy between trips and getting trapped in flooded subways and actively ruining my life that I could never really just sit down and read. Oddly enough I was able to get really sucked into a book I bought at a used bookstore a few months ago. It's the story of a Native American's life, and it's called
Black Elk Speaks
. I recommend it to just about anyone -- despite being extremely depressing, it has somewhat renewed my faith in humanity, which had been a bit lacking lately. I've also discovered a renewed interest in Native American history, which influenced my next book choice. I also had to choose a library which would stay open until 8 (tonight), and then, of course, pick up a random comic book. I did all this and more (well...not really more) at the
Kensington Branch
.
Branch: Kensington
Location: 410 Ditmas Ave. between East 4th & East 5th St.
Transport: F train to Ditmas Ave.
Book:
Bury My Heart at Wounded Knee
by Dee Brown;
Finder: Sin-Eater, vol. 1
by Carla Speed McNeil
Date: Tuesday, August 21, 2007
So, after work I went and got a new CD, then hopped on the F train in Manhattan and took it out to Kensington. I was looking for this Native American history book I've mentioned; you've probably all heard of it, there was even an HBO movie of it recently. To my horror, it wasn't there, but I did see a trade of a comic I had noticed in my old comic store in Minneapolis. I picked that up, wandered around frantically for a while, then finally refused to give up and found
Bury My Heart
just a few shelves away from where it should've been.
The library was very nice. Definitely a smaller branch, very square (as you'll see in the photos) but all of the space was packed with media and the selection seemed varied and interesting. I always wonder how they decide which random comics to order, whether a publisher's guide or library journal that tells them to, or if someone actually reads the comics beforehand. But back to the branch, it had a very homey feel, there were a bunch of teenagers hanging out, the staff was nice, nice mix of patrons, etc.
The neighborhood is also great, there are a bunch of little restaurants and stores on Ditmas Ave., and the autumn in the air just made it all great. More of (very diverse) small town atmosphere than a fancy Park Slope type feel. But that's enough of that, I'm hopefully not moving out of here anytime soon. I just got a new neighbor and everything (yeah! one that doesn't hate Dave and me yet!) so I'm pretty settled. Basically what I'm saying is, as far as I'm concerned, fall can't get here soon enough, and I need to get myself to libraries more often. Hopefully I can get through these books pretty fast. Cross your fingers and hold your breath everyone! Pictures...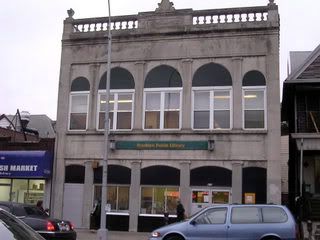 There's only really one angle I could get of this place. It's kinda sandwiched.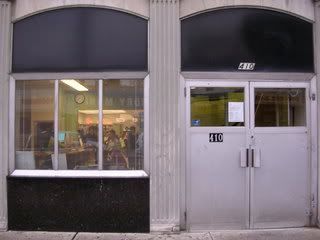 I could get closer...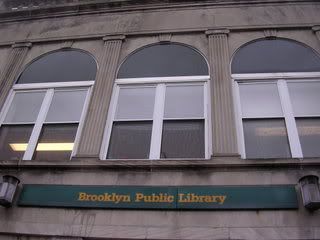 and look up...but that's about it. See you next time. I can 63% guarantee it'll be in less than a month.