So, I finished
By Night In Chile
yesterday morning and decided to get on my bike and ride somewhere, because it was an absolutely gorgeous day. The book was excellent by the way, short but very powerful. It was about a Chilean priest who also wrote poetry and literary criticism, and I guess...the regrets he has about his life, would be the best way to put it. It doesn't sound all that great when I put it that way, but it is. Something about the way Bolaño writes is just very captivating, it really makes me wish I were fluent in Spanish so I could read it the way it should be. But thats ok. Dave has started the Sinatra bio and says it is very good so far. So that's all for last time's stuff.
The other day I was in the Union Square B&N with my friend Sara (who just moved here from Minnesota) and discovered that it is apparently small press month. They had a whole table of interesting looking small press books, one of which I bought (a
comic
) and others of which I wrote down the info of. Very few of them are available in the Brooklyn library system, and most of those that are are in the Central Branch, which I don't feel like going to yet for some reason, but I found one book that seemed interesting by a Canadian author, Lucius Shepard, so I headed off to the
Carroll Gardens Branch
to get it.
Branch: Carroll Gardens
Location: 396 Clinton St. @ Union St.
Transport: bicycle
Books:
A Handbook of American Prayer
by Lucius Shepard;
Der Struwwelmaakies
by Tony Millionaire
Date: Tuesday, March 27, 2007
The library is another Carnegie branch, so it has the same layout as the others: one large room, small balcony with some other stuff on it. I was feeling a little out of it yesterday, and I kept thinking I was in the Park Slope Branch because they're very similar. Carroll Gardens has a great selection though, possibly due to the fact that it's an upscale neighborhood. It's always fascinating to me which branches have which books, because it tells a lot about the neighborhood. A Russian writer like Victor Pelevin, for example, you're most likely to find in southeast Brooklyn, like Brighton Beach or Gravesend, because those are the Russian neighborhoods. But that one is obvious. The book I took out yesterday,
A Handbook of American Prayer
, is at the Central Branch (most things are) but also in such fancy neighborhoods as Windsor Terrace, Carroll Gardens, Park Slope, Brooklyn Heights, Greenpoint, and the Leonard Branch (Williamsburg). Roberto Bolaño is a bit different, because he's in libraries in neighborhoods with significant Hispanic populations (Sunset Park, Bay Ridge) as well as hipster enclaves (Carroll Gardens, Leonard). Although in reality his book
Amulet
is NOT in Carroll Gardens, because I looked for it, and so did the librarian, and it wasn't there, which was annoying because I bet it's good. DON'T STEAL LIBRARY BOOKS YOU JERKS!
Other points of interest: this was maybe the first time I've been to a library that I noticed not all of the computers filled with kids using the internet. Gorgeous weather wins again! As for the other book I got, it's a Maakies book. You know, that funny, gross comic strip. It rocks. I was surprised they had it in a library, but who knows what passes for books these days! Also, up on the balcony, there is a whole graphic novel section, which I thought was pretty cool. Of course, it's mostly just the superhero stuff and manga; the good stuff is mixed in with the regular fiction. Or in the "New" section, which is where the Maakies book was. Whatevs.
Pics: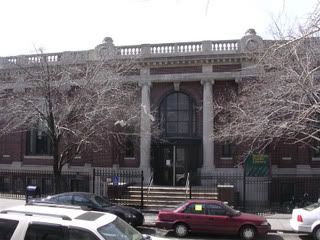 Long shot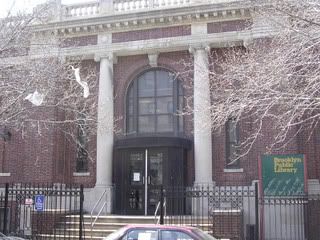 Closer shot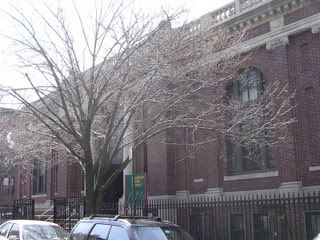 I guess this one's more of the tree than anything.
So that's it for now, I guess no one is reading this anymore anyway, but if you think that's gonna stop me, YOU'RE WRONG. See you next time. Or not. Probably not.